Frequently Asked Questions
My fiancé and I are currently planning our wedding, and we are very interested in a dove release. Could you please explain to me what is involved?
A dove release at a wedding is very special, but it does take some planning. You should find a release business within 30 miles of your location from the directory at this website ( www.whitedovesociety.org) The business will assist you in your planning, and offer certain packages or displays.
How do I know that the birds will be safe and the company reputable?
Be sure they are members of the International White Dove Society because all members agree to adhere to a code of ethics.
I am writing my own vows and we are having a dove release. Where can I find some poems or reading or information about white doves to give me ideas.
If you would like to do a reading or poem about white doves, go to www.whitedoveceremony.com and there is a lovely book of poems available either printed or as an e-book, and that site also shows some typical displays that you could consider for weddings or funerals.
Where do the doves go when released?
White doves are highly trained athletes and they return to their home loft. People often ask if all doves will fly home. NO. Only those that have been properly bred with the homing instinct and correctly trained. NEVER release doves that have not been trained to return home. Pet store birds or Turtle Doves should never be released because they cannot be trained to return.

How do Release Doves know where home is?
Nobody really knows. But a well-trained dove can navigate 100's of miles to find the way home. There are documented flights of over 1000 miles. But most white dove release businesses stay within about 50 to 100 miles from home.

Will they make a mess at the ceremony?
It cannot be guaranteed, but birds usually do not defecate when flying so the chances are slim.

When will the birds be released?
This is entirely up to you! There can be a lot of creativity in the timing and location of your release. Discuss this with the person doing the release so we can plan the event perfectly. Never release birds close to sunset or after dark. They must have time to fly home before dark so plan your ceremony to START about 1 to 2 hours before sunset, depending on the location of your ceremony and the home loft..

Home | About Doves | Contact Us | FAQs | Links | Our Services | Policies and Standards
White Wings Dove Release
Summerville, South Carolina
269-944-6310
lizscully2@aol.com


Professional Member of the International White Dove Society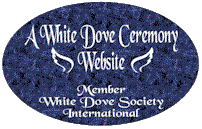 Hosting Beyond The Sidewalks



SITE INDEX
Site Title: Frequently asked questions about White Dove Releases White Wings Dove Release Wedding Funeral Summerville South Carolina
Description: Frequently asked questions about white doves and their release. They are not harmed and will return home. White Dove Release in Summerville, SC for weddings, memorials - any outdoor celebrations. Member of White Dove Society, www.whitedovesociety.com
Keywords: trained doves, homing instinct, navigate many miles white dove release Summerville, SC, Cane Bay, Monks Corner, Flower Town, wedding funeral birds for sale, white pigeons, whitedove doves release Wedding Funeral Graduation Birthday Anniversary Confirmation Baptism House Warming Dedication Reception Ma